Second Date Tips & Advice

What to do on your Second Date!
Before you secure a second date, you'll probably want to wait a few days before you call. When you do call, be warm and confident - without pressurising. Say you had a good time and suggest a second meeting.
Where to go/Things to do/Places to See
If the first date was a success, a repeat performance may be a good idea. Otherwise what about a museum, a fantastic park or a zoo! There will be tonnes to talk about there.
And, if your not the greatest conversationalist, try a film or a play - you'll definitley have loads to talk about afterwards (see how to be a good conversationalist).
For places to go & things to do click here.
The second time you meet you'll no doubt feel more familiar. Make it a priority to find out more about the other person - their needs, friends where they're heading etc. Afterall, to have a successful relationship, you need things in common. Also you need to keep your cool so reread 'the first date'. - remember to smile and don't forget eye contact! The more you like the other person the harder it will be to! Keep the other person interested by showing the right amount of interest - ' Too interested' will present no challenge. Not interested enough and you may come across a rude. Get a balance. A little give and take creates healthy interest.

Our Top 10 Tips for Your Second Date!
The most important rule! Don't jump to any conclusions. There may be any number of reasons why someone reacts in a way you didn't expect. What people say when they're relaxed may not be what they'd say when they're anxious. Give them a chance - allow people to make mistakes!


Stay cool if things are going well. If you really like the other person you'll be tempted to force the issue on their feelings for you. However this is only your second meeting and it is still your mission to be fun and relaxed - whatever you're feeling!!


Avoid pouring your heart out too soon - go slow:)


Try to find out as many things as you can about your dates background, likes, dislikes, friends and so on so you can get a realistic picture of them.


If you feel you can talk freely about yourself You might want to indicate personal needs that are important to you. For example an ambition you wish to fulfill. In this case you would appreciate having time to yourself.

What are your chances - try to find out if they're seeing someone - don't sound as if you could be possessive - this is a sure turnoff at the start of a relationship!


Did you make a mistake - say something wrong. Don't worry - just imagine it never happened (learn from your mistake:-) Most people are more forgiving than you think - we all know about the nerves you get on a first or second date - it's not easy!


Finally... go one step at a time II Peter 1:6-7, TLB.
"learn to put aside your own desires so that you will become patient and godly, gladly letting God have his way with you. This will make possible the next step, which is for you to enjoy other people and to like them, and finally you will grow to love them deeply."


Related Christian Topics
What to do on the first Date | get a Christian Date | Christian Dating sites | Guidance by God | How to get a Christian Wife | How to get a Christian Husband
---
2nd date advice from 101Christian dating advice guide. ©2000 - written by Fusion101 Christian Singles Dating & Chat.
Real Testimonials!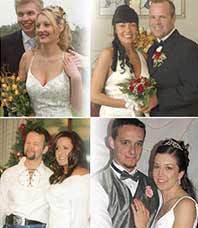 Read real stories from our single Christian members who found genuine love and marriage on our site!
Date Resources
Singles Dating Books
Singles & Dating Tips
Best Dating Advice
Top Dating Sites
Books for Christian Singles
Christian dating advice
Singles Articles
Singles Sites
Christian Chat room
Christian Single site
Christian Events
Christian Social Networks