101 Christian Marriage Stories!

How 101 Free Christian Singles helps people meet...
Below are a few REAL testimonies and wedding photos from 100's of matrimonial and marriage success stories from Fusioneers that met their Christian husband or wife on our trusted free Christian dating site! Since its design in 1998/9, Fusion has steadily grown to be the best known, most popular and successful free online matchmaking service for Christians with over 300,000 members worldwide! We have Christians of all nationalites; US, UK, Ca, Au, NZ, HK, Sg etc so join 100% free today to find your Christian match! About 101 Free Christian singles | SEE ALL OUR CHRISTIAN MARRIAGE SUCCESESS >>
---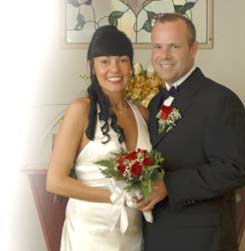 Tom & Adriane (USA)
"Dear Edward, well, I am GATA16 and my husband is CLARKSTER and we wrote this testimonial for Fusion101. I met the love of my life, she is a Proverbs 31 lady. We are happily married and enjoying sharing life with one another. We do our best at keeping God in the center of our lives. It has been a huge transition primarily for her; we lived on opposite ends of United States. Me (Washington) her ( New Jersey). Thank you FUSION 101 and God bless all who are searching for a helpmate. Yours in Christ, Tom & Adriane."
---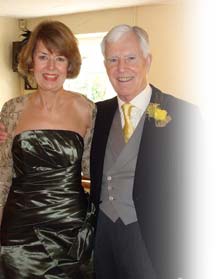 Robert & 'Loveday' (UK)
"Hi Edward - a testimony as promised. As a widower I met several lovely Christian ladies through 101, but none hit the spot until I met 'Loveday' at a garden centre near Cambridge. I'm Anglican and we both love Jesus and married this year and have enjoyed every moment being together. Even Christian singles in our senior age bracket can find happiness through your site! Thank you so much for the service and please use this testimonial. God bless and Jesus is Lord! Robert."
---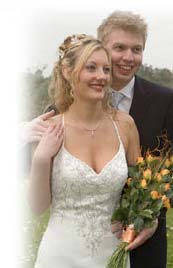 Andy & Lorraine (UK - England)
"Hey Edward, we are writing to ask you to remove our profiles from fusion as we are getting married. We would like to thank you for helping us get together and for the fantastic ministry you run, helping the forgotten in the church to find the possibility of romance. I have to say you have been fantastically successful in my church with two weddings and one pending. Thanks once again and God Bless. WFG & Lolly69 (aka Andy & Lorraine)."
---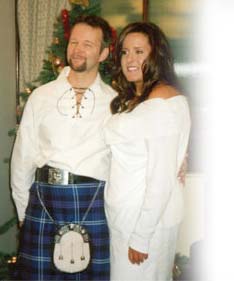 Andrew & Summer (Scotland UK)
"'Pom' (Andy) met his lady on Fusion whilst chatting away in the Fusion chat room and a great friendship led to marriage. As you can see being a slightly eccentric Scott he's gone the whole hog for the wedding day and wearing the complete works including traditional kilt and sporen (is that how you spell it - Im not sure!?). We wish you all the best at Fusion free Christian singles and thank you for allowing us to meet:)"


---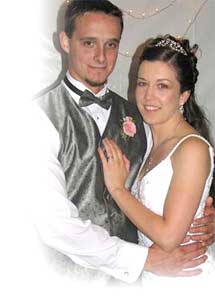 Beloved83 and Sar117 (USA)

"Ed - Here's another success story for you. Burned out on traditional dating, I decided to try the online thing. I was skeptical, but it seemed at least a positive way to meet other Christians when I didn't have a lot of time to join singles groups in the area. I liked that fusion101 was a free website, which encouraged me to keep going. I joined during a time where there were some technical difficulties early in the year - my account was lost in cyberspace. But then I stumbled across a profile of a wonderful man. He'd been inactive for quite some time, but his honest, detailed answers to the questions impressed me, as well as his tall stature and cute smile. :) He told me later that he rarely even read his notes from the website, and had lately considered deleting his account. But something made him read my letter, and he replied. It turned out he was from the town I used to live in- we had never met- and that he spent a lot of time in my current hometown on vacations etc. He lived about 300 miles away, but immediately told me that he would move if anything more came of our new friendship, since I was deeply established in my community with a business and my family. We prayed a whole lot, and met in person about two months later, at the end of March. After that, God made it increasingly apparent to both of us that our search was over. Micah began loking for work in my area and made the long drive over whenever he could. After a weekend camping with my family in July, Micah came to my town for an interview, and asked me to be his wife. I said yes!!! He got the job the next day, as well as secured an apartment, and moved over two weeks later. We were married September 2. Thank you for the ministry / service you offer. Though I've gotten some flack for finding my husband "on the internet", I know that God can use anything and anyone to bring about His plan in the way that gives Him the most glory. The details of our story are much too long to share in this letter, but each and every one shows His hand, His provision, guidance, protection, and blessing. We look forward to building our marriage on the rock-solid foundation of Jesus Christ. Blessings, Beloved83 and Sar117."
---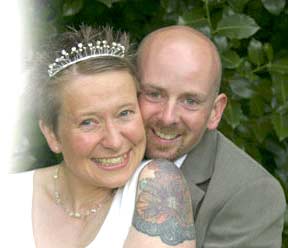 Gordy & Libby (England UK)
"Thanks Fusion, we would be very happy for you to use the testimonial. The wedding was absolutely fantastic. We are just back from a short honeymoon in Paris and are so looking forward to all that God has got planned for us in our new life together. God bless, Gordy and Libby Davidson."
---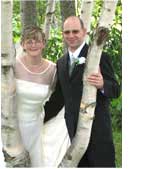 Tammy & Ron (Ireland)
"Dear Ed, I want to thank Fusion101 for bringing me and my wife together. We met on Fusion in November. We're both Christians and came here curious, and hoping that maybe our life mate was out there somewhere. But to be honest we both felt the chances weren't good.. It's the internet after all and everyone says not much good comes of online relationships... or so we thought! Little did we know, our Saviour had it all laid out for us. Tammy's what I always wanted in a mate and the Lord delivered that to me. We got married on August 19th and we owe it all to the Lord and Fusion Christian singles for bringing us together. God bless you for up this site up for Christian people to meet. Your website is easy to use and a joy to visit. Keep up the good work and God bless all you at Fusion101. All our love, Tammy and Ron."
---
Related Christian Articles
Relationships advice | Christian dating online | Christian singles fusion | more marriage testimonials