About 101Christian Date Guide

101ChristianDatingGuide was the first full and complete online dating tips and advice site on the web. It was written between 1999-2001 after it's author read several 'dating advice' books and decided to make his own attempt at helping people prepare for dates, successfully find a date and finally find a suitable marruage partner for life!
And that's the point - a lot or probably most of these dating guies and romance advice books were all secular and aimed at 'dating' as if it was some kind of sport. You know - how you can attract Pemela Anderson have your fun with here and onto the next.
And the same dating advice for girls - how to attract a rich man and keep him interested and have as much fun as possible and then if it doesn't work onto the next.
You see for a Christian, divorce is not an option, despite what some liberal Christian ministers and pastors will tell you. Unlike other areas of Christian learning and doctrine I am not prepared to say I know someonthing is correct and prefer (not being a 'scholar' to present the different views and ask the reader to make their own minds based on what The Bible says) Christian marriage this is one area where I will put my money where my mouth is and say I know this is correct.
So then this dating guide for Christians and in fact the entire 101ChristianNetwork of sites for singles is designed to help you find someone for life - not go through a string of unsuccesful dates and flings! I sincerely hope that when you use our free Christiain singles dating service you will take the time to prepare your heart and mind for a lifetime partner and if you are unsure about anything - try earnestly with God to get things straightened out forst in your own life before you carry it into a relationship and into the lives of others.
We wish you God's best blessings in your search for a Christian husband or wife using our sites and services!:)
Real Testimonials!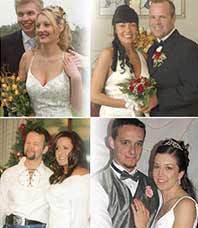 Read real stories from our single Christian members who found genuine love and marriage on our site!
Date Resources
Singles Dating Books
Singles & Dating Tips
Best Dating Advice
Books for Christian Singles
Christian dating advice
Singles Articles
Singles Sites
Christian Chat room
Christian Single site
Christian Events
Christian Social Networks
Dating sites we recommend