Help for Christian Singles

Encouragement & advice for single Christians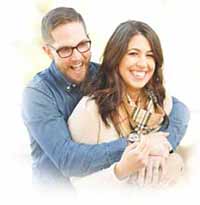 Single?.. Christian?... looking for some help and advice?... 101 Christian Singles has many resources and website suggestions that can help you with being single. When it comes to being single in the church we've all felt the pangs of pain at seeing others pair up so easily when it can seem like a nightmare for us - but don't despair!:)
Did you know, God really does fully understand the feeling of lonliness. Remember his last words.. "why has thou forsaken me" - a very telling reminder of Gods love for us that he allowed his own son to experience the pain of complete separation from love.
FREE Christian singles!
I myself have experienced these feelings many a time and it was precisely this that gave me the energy to build this singles service. At times I've felt like leaving the church as the secular world has it so easy when it comes to meeting new friends - but I wasn't prepared to see myself and others fall away over something that could be easily be helped.
You see Christians - like everyone else simply need a healthy mix of companionship and friendship. That is where 101 Christian Singles can help as we focus on this rather than dating as such. Read through some of these single Christian help articles.
---
Help resources & sites for single Christians
General article on singleness - we need all the help we can get in today's lonely world that seems setup for everyone but Christians!
Christian singles services to help you meet new single friends and a husband or wide that loves God!
lifeway.com - truths single Christians need to face up to.
jmm.aaa.net.au - Information and help for Christian singles in USA
Complete dating guide - Christian dating rules, tips and help for Christian who are dating.
Have Churches Failed Singles? - an interesting look at why some believe singles are leaving church - something 101ChristainSingles was setup to stop!
Surviving church as a single - an honest look at singles in church and if they have been looked after.
Singleness.org - single Christian help and discussion site.
How to find a Christian match in a click with 101's free online dating agency
Help for Christian singles cont...
Finally... if your're single, Christian and struggling... it's worth remembering how all around the world our Christian brothers and sisters are struggling in many other ways. Being single and lonely is often a focal point for western Christians that people in other parts of the world could be forgiven for seeing as unimportant in the scale of things. At 101ChristianSingles however we recognise that all things are importand to God - and whats more, a Christian without the joy of Gods love in their heart is not an effective one.
So 101 Christian Singles encourages you to use our service not as a despatate bid to get married, but to meet friends and edify one another and build each other up in faith - if you meet somwone - great! But right now - if you are feeling down about being single - take a look at this article and then try to thank God for what we do have in this part of the world!!! Praise God!
---
Christian singleness advice articles
Christian Self Confidence - if it's not rooted in God - it's pointless - let this guide you to godly self-confidence.
Being Single and Christian - a site dedicated tp helping UK Christians navigate the single road to marriage or accepting and embracing the often more noble single Christian life.
Christians Feeling Lonely - this is a great article for some much needed encouragement!
Places to go or take a date - run out of ideas - or didn't even get started?.. check out this fearure for 101 places to take a date!
Do looks matter? - the answer is not much - and here's why!
Christianadvice.net - Christian advice and help online - hundreds of articles.
allchristiancruises - Christian single cruises holidays - guarantee you meet loads of eligeble Christian men and women!
---
Christian singles & marriage help articles
www.encouragementforwomen.com - Encouragement for single women.
theologicalfoundations.org - restoring Christian Marriage
---
Christian events websites
Christian events - social get togethers and happenings - signup for free events alerts.
101ChristianEvents.com - register for events or advertise yours free - a great way for single Christians to help themselves get out there and meet new friends.

---
© Help and advice for Single Christians at Fusion101.com † FREE Christian Singles.