101 Match Service for Christians

Looking for a Christian Match.com alternative service? Try Fusion101.com!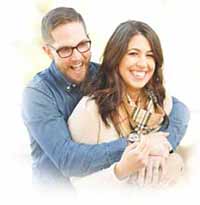 Fusion101.com has a great singles service designed just for matching Christians with a perfect soulmate. For 15 years, 101Singles dating service has been running an alternative match site for Christians and can help you meet new people in minutes! Just complete the quick signup and answer a few questions and you'll be chatting with other singles in munutes.
Not only can you use our service to find a great Christian match for possible marriage, but is also a Christian matchmaker to find other people who are looking specifically for Christian friendship and penpals services online.
FREE Christian singles!
You can easily get in touch with people from all over the world via email, mobile phone text dating and many more services designed just for Christians - beit single or otherwise. You may also just want to meet or find Christians who are interested in Bible study, prayers requests and general Christian support. Our site is complete with one to one instant messaging and Christian chat rooms.
To help you find matches, or if you are just impulsive and want to get chatting straight away, you can see who is online at the same time you are on fusion101.com and that can be anywhere between 500-1000+ members at any one time. One thing is for certain, 101's site is dating for Christians only and we are not short of Christian members for you to meet and mingle with straight away!
---
You may not be the kind of person that likes to rush relationships or perhaps you are not quite as confident as you'd like to be when it comes to meeting people (ask God for help;) and you want to browse other peoples profiles at your leisure or wait for people to contact you (If that's you then add a photo as there are so many members that people without photos are less often looked at purely because people have limited time on their hands:). This way you are nine times more likely to get browsed and emailed and potentially find a match.
You can also make a Christian match in one of our cozy chat rooms. You'll make friends whom you'll be looking forward to checking in with often, too. Some people come on every morning or evening to chat with great friends from around the world. You may even make friends who pass potential matches on to you as they get to know you and get a sense of who might be right for you. So don't hesitate--sign up for a free 10 day trial membership today.
Find a UK Christian match now >>
---
101 Christian Articles
Free Dating Service for Christians

---
Walt Disney, Founder of Disney Studios
"No man is good enough to govern another man without that other's consent."
Abraham Lincoln
---
© Free Christian site similar to match.com alternative site for Christian Singles.