Christian Message Boards Forums

The best forum sites & message boards for Christians?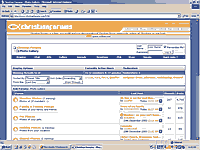 So what is a message board in the first place? A message board (sometimes called a web forum) is a place where you can meet new people, ask questions on difficult subjects, get answers to the same and post your own news, views, opinions as well as topics you would like to discuss and debate with the other members in the forum. They have been around since the dawn of the internet along with chat rooms - another of the first widely used net inventions now common to most community sites. There are forums on just about every subject imaginable, computers, gardening, dating, love, space, geology, fishing, surfing - you name it - and like chat, you'll find message boards realating the subject you are interested in.
FREE Christian singles!
Join 101ChristianSingles FREE | help | about us | Christian penpals | testimonials
---
So - if you're looking for a cool Christian message board to post your views, meet others, chat with single Christians or reply to other people questions and opinions then you are in the right place - Viola - 101 Christian message boards page has all the web sites you need!
Messgage board forum for Christian singles & dating questions
gracecentered.com - Christian singles forum >>
Free Christian singles dating serviceBelow are some of the best boards we could find specifically for Christians. There are many general message boards and forums out there but we hope you'll find these ones concentrate on Christian topics exclusively for intance dating, or Biblical views etc. We looked high and low on the Internet for these and instead of listing all of em - we just picked our favourites - plus the ones that looked most popular and appear to have the most members. Even though as 101 itself demonstrates quite well - biggest is not always best! However - large sometimes can mean a good site so happy hunting - all the best 101 Team:)
Please let us know of any really good Christian sites that we missed!
---
Christian Message Boards
Christ Centered message board
Chistian Guitar Message board
ILJ Christian Message Boards
Christian Chat rooms
Bible Forums.org
Christian Forums & Boards
Christian Students Forums
Disability Message board
Christian Forums Carm
Worthy Christian Forum
---
More resources
Christian Dating Sites | Christian Resources | Secular Dating Sites
---
©101 1999-2016 - reviews of Christian message boards and forums sites on the web at 101 - The Worlds freindliest genuinely FREE Christian Singles site - Try us today!