Canadian Christian Singles


❤️100% FREE Christian dating site for CANADA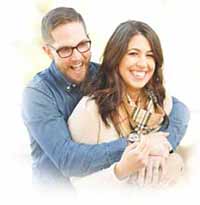 Fusion101.com is a web site for single Christian Canadian, US and UK men and women looking for fun, friendship, love, friends, fellowship, dates, romance in Canada. Try 101 for a Free Christian personals, dating, pen-pals and relationships on the Internet. Unlike traditional personal ads services and meetup services - 101 has online Christian photo personals, profile editor and you are notified of dating and Candian singles events for Christians.
About 101 Christian Singles service | REAL Marriage Testimonials >>
---
We are a Christian Company!
101 is the only totally FREE Canadian matchmaker service that hasmarriage personals, message boards, things to do and places to go in your area, Christian chat rooms (virtual Christian cafe), the best web sites to visit and much more for Canada Christian singles all at one online meeting place! We have many single Christians in Manitoba Ontario and even as far as Prince Edward Island, Québec, New Brunswick and Nova Scotia states, towns and cities.
15 Years helping Canadian Christians
christian dating penpals chat globally!You can also chat and find danada penpals as this is an international site. We have photo personals of all age groups - 18-80! - all denominations and different backgrounds - African Americans, Europeans Asians and Caucasian, Africans & Latin Americans. Plus lots of single senior men and women, Catholic singles, Pentecostals, Baptists and the list of sanada ads goes on... and on!
In Canada specifically we can offer services to single men and women in all states and towns including British Columbia, Alberta, Saskatchewan - looking for a blind date in Newfoundland, Labrador or Northwest Territories? Are you living in Yukon Territory, Vancouver, British Columbia? - no problem as we cater for people in all the towns included in these cities, states and counties. But - we are not just a matchmaker for Christian singles in Canada but also any country you can think of!! Designed in 1999, 101 has 1000's of members from all over the planet!! Please try us as you'll find our free Canada dating services fantastic fun!
---
List your Canadian single Christians groups on this page!
Just email us (see homepage at fusion101.com for contact details).
---
Genuine Singles Success Stories from Canada!
Hi Ed/Fusion 101,
This is not a suggestion but rather a warm email of encouragement. May God bless you all for your effort in offering your free service to help Christians meet other Christians. I have only recently joined as a member but am very pleased with how user friendly it is. With so much slimy sites on the net now adays, it's refreshing to find one that is God based and genuine.
SO!.......I will definitely be passing out the word here in Manitoba Canada to all my single Christian friends about your site. Very impressive! Jesus Saves!
Alison Mitchell - Toronto, Ontario Canada
---
Hi Edward at Fusion,
There are many paying dating christian sites online and yours is free. Thank you for it. I am aware of the fact that this site is very time consuming for all of you to keep up. But at least you try to do it free of cost for us. THANK YOU SO MUCH, it means alot to us. Should your service become charged in the future, I'd probably pay because your service is among the best arround and best kept in Gods glory. God bless! William aka canadian4christ
Lille - Nord - Montreal, Quebec, Canada
---
Testimonials from Other Canadian States:
Alberta dating Success Stories
British Columbia Success Stories
Monitoba date Success Stories
Ontario singles Success Stories
More Christian singles dating sites
Testimonials

---
©101 2005 - The Worlds freindliest Canadian Christian matchmaking websites - join us today!