Christian Dating Agencies

Are dating agencies for Christians a good idea?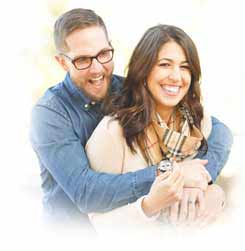 Asking if dating agencies are Biblical can be like asking; are cars Biblical? - if ot - should Christians drive? Well the answer may be yes or no, but we can't just say bacuse something is not in the Bible, we should not do it. Many things are not mentioned in the Bible that we know are both right and wrong. When we say; is something Biblical?, we must always be careful to mean; does it stand up to something that the Bible or Jesus would have approved of? Now that does make sense!
FREE Christian singles!
The fact is, in today's world, finding a Christian partner can seem a like finding a needle in a haystack. The question is, where to look, who should I be looking for and should I even be looking in the first place? Good question since if God is really an all-knowing all-seeing God, then surely he will produce the right person at the right time?
In a sense that has to be right doesn't it - it's rather like Jesus either being God - ie who he said he was or a crazy man! There isn't much room for speculation about wether God knows where and when would be the best time and place to meet for you to meet your future husband or wife - the fact is He knows!:)
It depends on the agency and their motives
So what's the point of using Christian dating agencies then?... well consider what would happen if you were to sit at home for the rest of your life, not go out to dinner parties, social and Church events. The fact of the matter is you wouldn't meet anyone of the opposite gender at all with whom you could become friends with perhaps later partner up with. Extreme as this is - this would be the outcome of not mixing and matching socially, making new friends and generally getting involved in church. If you live in a box - you will only ever meet the inside walls of the box.
It is our oppinion that getting involved in church is the best way to meet other Christian singles, but what if you are always on the go and need a little help? Well - your friends might invite you out for socials or for dinner with their single friends to help out - a nice gesture indeed. So then, what's the difference between getting a little help from the chuch or your friends to meet new people (it doesnt have to be romance!) and getting a little help from a dedicated Christian run and Christian owned dating site and friendship service that specialises in making it easy to make new Christian Friends!??
---
There is no difference. Yes there is the stigma of belonging to a Christian singles agency or service but lets get that out of the way - forget what other single Christians think of you being proactive and making a bit of an effort - God like people that do - not people that don't - the old proverb about being easier to direct a ship thats moving than one that stands still:)
Just one very important thing: You MUST not see a Christian singles dating agency service as a way to short cut God's plans. Use it to practice interacting, make new friends and edify yourself with other Christians. Don't use it to go on a string of dates to see which one 'fits!! Stay open and listen to the quiet voice of God - see if he is directing you in one way or another - to one person or another - or - does he really just want you to make good Christian friends?? I suspect God would want you to make friends and have fun in fellowship with other Christians.
Relax and don't expect any singles website or dating service to shortcut God's plans for you finding your future Wife or Husband - be sure though that along with church, your social life, and possibly work, that by belonging to a Christian dating agency you are putting yourself in a good position to meet people should God decide to bring you someone - not that he needs your help - I think the emphasis should be on fellowship:)
Concentrate on sorting yourself out for your future partner - read the Biblical view of how a Christian man or woman looking for a spouse should be. This is the most important preparation you will ever make so have fun doing it and don't get too hot under the collar when things don't always go your way - GOD KNOWS BEST!!!
101 Team:)
Fusion Christian Dating Agency info >>
---
---
101 Christian Articles
Self Confidence
Christian Marriage
Christian Dating Articles
The Crazy History of Personal Ads!
Useful Websites
---
Christian Events
Free Chritian Meetups
Christian Books
Christian Advice and help service
---
Todays Fantastic Quote
"I wanted a perfect ending...Now I've learned, the hard way, that some poems don't rhyme, and some stories don't have a clear beginning, middle and end. Life is about not knowing, having to change, taking the moment and making the best of it, without knowing what's going to happen next. Delicious ambiguity".
Gilda Radner
---
Copyright 2016 101 help and advice articles at Fusion FREE Christian Dating site