Real Christian Singles Testimonials!

Genuine singles & dating success Stories!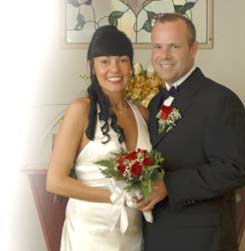 Dear fusion 101,
Please remove the profiles of Minty and chuck from your website as we no longer require your services!!! - thanks for your help
minty and chuck - Southampton - Hants
---
Hey fellow Fusionites... please delete my profile!
Thank you for the time I've been with you, I had actually forgotten to request the deletion of my profile. I\'ve found a great christian girl and things are going well. Your providing a great service to single christians may God bless you in this work.
Matt1 - Ireland: I have met a lady through Fusion, and would now like you to remove my details. Thank you for your service and keep up the good work!
Stevo33 - Long Ashton Bristol - North Somerset and Avon
Always 100% FREE!
---
Hi fusioneers!
I'd like you guys too temp/delete my folder please... you never know but something could work out between me and my new friend... if all is well.... you guys will be the first to know... why? because how else would it have happened. Either way, you need to be reminded that both of you are as Fusion staff are blessed...... and know that it is the heart behind the service and not just the service itself that is appreciated.... you did that right... well alright then... :)
William - London - Walthom Forest
---
Message: Hi Fusion,
I would really appreciate it if you would remove my profile as i no longer feel i need to be on here. I have enjoyed being a member and have met someone from here so feel that i should come off, so i dont lead others on if you know what i mean. Thanks for a great site and giving us the opportunity to meet.
Shaun New Forest Hampshire UK.
---
Message: many thanks for this site I''ve found the girl of my dreams so please can you delete my profile joner26 password mixture thanks again - Jim - Barnet London
---
Hi Guys, Please can you delete my account, I met a lovely girl (anas) a few months back, and won't be needing your site anymore!!
Cheers - Christof - Poynton in Cheshire
---
From ----@davemurray.fsnet.co.uk Hi Fusion,
please take my profile and my name off the list thank you, i have met a fabby lady through fusion and really want to seek gods will in it all. Peter Southwark City of London.
---
From dan---@virgin.net I would be grateful if you would delete my profile from Fusion 101. I've now found my perfect parter and yes it was through Fusion! Dan - Dunbar Haddingtonshire - Scotland
---
From hj-----@stmail.staffs.ac.uk I have met a very Beautiful young girl through your site and have started a wonderful relationship with her. I would like to thank you for letting this site being free and the great happiness I have found through it. As a single Christian it is very hard these days to meet a suitable Christian girl but now I have. Could you please take my profile off the site as I now no longer need it and it could make others feel down every time I have to tell them I am not longer singe. Thanks Again in Jesus name!
D. Hindmoor - Salisbury Wiltshire UK.
---
From happyhom-----@yahoo.co.uk I'd like you to delete my profile as I've met the nicest man on your site and we're in a really beautiful, God-filled relationship now. I'd just like to say a big THANK YOU to all of you who keep this site running as it's so hard to find genuine Christian personals websites. Fusion 101 is great and I would recommend you to anybody! God Bless, Lucy x Aston Birmingham England.
---
From sida----@hotmail.com I wish to thank you for enabling me to meet my spouse and we are getting married soon. I therefore wish to delete my entire profile and user name from the fusion website. Thank you for your very efficient and reliable service,
God bless you. Neil - Brenford Middlesex United Kingdom.
---
Please delete my profile from your site as I have found a new life partner thruogh fusion101. thank you.
Ness - Falmouth Cornwall UK.
---
From the----@bushinternet.com Just writing to express our thanks! We met on this site and removed our profiles within a few weeks of meeting in person. That was nearly six months ago and we marry in a week's time. Mike - Roxburgh Teviotdale Scottland Highlands.
---
Thanks for a service , more professional than other expensive sites. May God Bless all who work for and use this site.
Ejay and froggie Billingshurst West Sussex UK.
---
From rlas---@email.com Hey guys! Well I have two things. One I can't tell you guys how much you've made this into a great website for christians to get together. I haven't found anyone yet but I've met a couple of hopefuls. Chris Tower Hamlets London UK.
---
Sorry! thought i had mentioned appreciatively that yes we have met through fusion,she is currently going to e-mail you for her profile to be removed also,her user name is sabine.I sincerly want to thank you guys at fusion for giveing us the opportunity to meet its very much appreciated and has proved to be a huge blessing,we will keep you informed as the situation develops,we will certainly be sending you a formal letter of thanks.May God continue to use you in the work you are doing for his glory.
Every Blessing
M. Gregory - Mike Moray Elginshire Scottland.
---
From sabine.bo----@bakertilly.co.uk Hija,
Just to let you know that I met a wonderful guy on your site...I would be grateful if you could delete my profile permanently. Many thanks
Sabine - Benwell and Scotswood Newcastle UK.
---
Hi,
Thanks for your website, I have now found a wonderful Christian Guy and wish to remove my profile. Happy Shaz
God bless you and Thanks again
Sharon - Sheffield Liverpool Birkenhead England United Kingdom.
From j_pa---@yahoo.com Please could you cancel my membership, I've found a christian girl!...woo hoo!! although shes not from this service, God has kept me going thru fusion101 in the hard times.......and I thank God for agencies like yours.
God bless you all! and thanx! Simone and Paul - Cowes and Newport Isle of Wight
---
From small----@104birch.fsnet.co.uk Your site is very easy to use and friendly. I like the idea that you have the same beliefs as me and hopefully all other users too! Terry and Archie - Beeston and Carlton Nottinghamshire UK.
---
Hi Webmaster
Just a quick note to say thanks for all your hard work, and God bless what you're doing. I think you've got the site just right and I am enjoying a very pleasant conversation with someone I met there, God has really used your work to do good things for people. David and Jenn - Banbury and Chinnor Oxford UK.
---
Hi, fusion 101,
Will you please remove my name from the fusion lineup, i have found a beautiful girl and am happy with her, through your program. She is also wanting to take her name off of the lineup, it has been so long since we have used it. Her email address, joanna_shanta@hotmail.com. Her nick on the channel is joanna_s from malaysia. Mine is lfjc from the usa. Please mail her and ask if she wants to be removed there. We are only taking up space on your program.
Thanks, Shawn - Edith Weston and Egleton Rutland UK.
---
From ahch----@hotmail.com Could you please delete my profile :) I am seeing a person I met on fusion and no longer wish to put myself out there so to speak :) Thanks for this great service and keep up the good work! Donna aka (wild flower) Tim and Mary - Berkeley and Chipping Sodbury Gloucestershire UK.
---
I have met someone from your site and would therefore be grateful if you would cloak my profile for the moment to prevent further contacts.
Many thanks
Debbie and Garret - Lyndhurst and Farnham Surrey UK.
---
From A---@HOTMAIL.COM User Name, Galatians5V22, I have serious 2nd thoughts about using a biblical reference, as a user name, I feel that it is not the proper way to use the bible and the to use the word of god is such a manner. Even though it is a from one of my favourite texts within the bible. I do wish to complete a profile for this site, however I would feel more confortable at present if you could temporairly remove this profile, and arrange for me to re-enter details under a different user name. My apologies for any inconvience this may cause. I must add that I am very impressed with your web site. Thank you. Grahame - Mickleover and Sunny Hill Derby England UK.
---
Please remove my profile from your database because I found the woman of my dreams through your singles organization. But I want to be faithful to only her. My user name is gordie61. Thanks.
ps the reason I leaving is that I have meet someone thro' the site so thank you and keep up the good work God Bless Mark and Sara - Maidstone and Tunbridge Wells Kent UK.
---
Dear Fusion team,
I'd just like to say you guys have done a great job. I've spoken and met a
number of women from the site and I'd just like to say 'Nice one'. Keep up the good work.
millionaire
Thanks, Judd - Bath and Bridgwater Avon and Sommerset UK.
---
From ang---@1bigred.com Thankyou for your web-site! The lord has blessed my life with a beautiful friendship and god brought us together thru this site. Now I feel it is time to permantly delete my profile for reasons I don't want to hinder my growth in what God is trying to do in my life. Please remove my profile as soon as possible. Thankyou and god bless!
Angela and George - Tyne and Weara and Minehead Sommerset UK.
---
From ya---@att.net I just wanted to thank you guys for a wonderful and incredible place to meet christain singles! I am also listed at Big Church.com but I have told many people there about Fusion 101 whom are more spiritually mature so that thye may find their soulmate here. My sister met and married a guy from Big Church had she known about Fusion she may have found someone who is invovled more in church activities. But he is a soldier they married last year and now have a beautiful baby boy. Thanks Again. Matt and Lucy - Wells Avon and Pershore Worcesteshire UK.
---
From ijac----@hotmail.com I would like to discontinue my membership and have my profile removed from fusion. I have enjoyed my time here and want to commend you for having such a great singles web site. Thanks!
Jacquie and Albert - Driotwhich Shropshire, Malvern England.
---
From de---@deborahcornah.com Hiya
thanks very much for the service - I like to see dreams being pursued and realised...this site is obviously someone's dream?
That said, I'd like to have my details removed from the site and cannot find a way to do this! Please could you delete my membership or let me know how to?
Many Thanks Fabien and Fiona - Merseyside Liverpool and Peterbourough England.
---
From ckd1----@hotmail.com Hi, thanks to your site I have met this very special guy and we see how things will go. could you please kindly remove me from your list. Thank you:) Dale and Sharon - Cambridge UK and Edinburgh Scotland.
---
From gotm----@hotmail.com Thanks a million!!! I've found someone very very special. Many blessings for your time and efforts in continueing the Christian faith. Please remove my profile from the site.
God bless, Cindy Belfast Ireland and Matthew Weymouth Dorset UK.
---
From simo----@ukgateway.net Please delete my profile. I believe I have met the special lady God has for me through your site. Many thanks!! God bless. Simon and Linsey - Crew Cheshire and Luton UK.
---
From ceno----@tiscali.co.uk Hi there. Just a quick note to say thank you for such a terrific site! As a single Christian, I find your site an essential tool for meeting like-minded people, as this is often not possible out in the everyday chaos of the world! Once again, thank you and may the Spirit of the Lord God bless and inspire you! John and Joy - Hemel Hempstead Hertfordshire and Stevenage UK.
---
From shake-----ss@yahoo.com Please can you remove my profile. I've met someone special - on Fusion! - and I feel there's no need to keep looking. Thank you for your site and God bless. Should things progress, I'll be the first to send a marriage testimonial. Bill and Nancy - Scarborough Yorkshire and Beverley East Riding UK.
---
From abr-----@hotmail.com please delete my account......I've met someone off of here that I like....Thankyou!! God bless :)
S Jarvis aka buccaneer29 Bukingham England.