How to Meet Single Christian Men?

Ideas and tips on meeting single Christian men (or women!)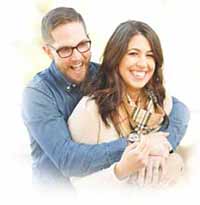 OK - you're at this website because it's not easy these days to meet single Christian people period! Well, at Fusion 100% Free Christian Singles we know that from our own experienece how difficult it can be at church to meet decent attractive Christian men at church if you are a women and we've done something to help you.
There are a few good things that have happened in the last few years - mainly due to advances in technolgy that will certainly help single Christians in the know. If you know someone who isn't - please tell them:) Read on if you want to find places to meet single Christian men (and women!).
FREE Christian singles!
If you use the Internet there are now thankfully many many options and ways to meet single Christians - men and women from matcmaker sites to social meetup groups and events so thank the LORD! (and about time:) So, there are lots of ways to meet single Christian men in the 21st century so no-one has any excuses now!
---
Article cont...
Particularly the web opens up a whole new relm of possiblilities for the single Christian lady or gentleman, where once meeting people meant dreadful Christian singles events (even these have improved) - now you can meet other single men and women from your liviing room and for free.
Of course if you don't use Fusion101.com you might end end up paying some astronomical monthly fee but rest assured this is always 100% free dating. Since we didnt set this up as a money spinner - we just wanted to help. (we frequently get emails saying 'a genuinely free service is not possible' !!!! but belive us - it is with God:)
Anyhow, sign up and give it a go - you can leave at any time - no strings guaranteed! We're here for you - 101 is run by Christians for Christians.
---
Christian Events
Local Christian Events near me
---
Related Christian Articles
Christian Events in UK
Relationships Advice Guide
Christian Singles Articles
---
More Christian Advice
Online Christian counsellors & help


---
© 2007 help & advice on how to meet single Christian men at 101 Free Christian Singles service.